We never seem to have enough doll socks in our house (or shoes for that matter, but that's a different post!)  I have seen several posts floating around about making your own doll socks from adult socks you buy at the dollar store.  So I decided to make my own, using this YouTube video as inspiration.  It provided a good starting point, but didn't include measurements, types of socks, etc.  So I experimented a bit and came up with a tutorial to share.  These doll socks work up super quick.  You can make a pair in 5-10 minutes, if you use a sewing machine.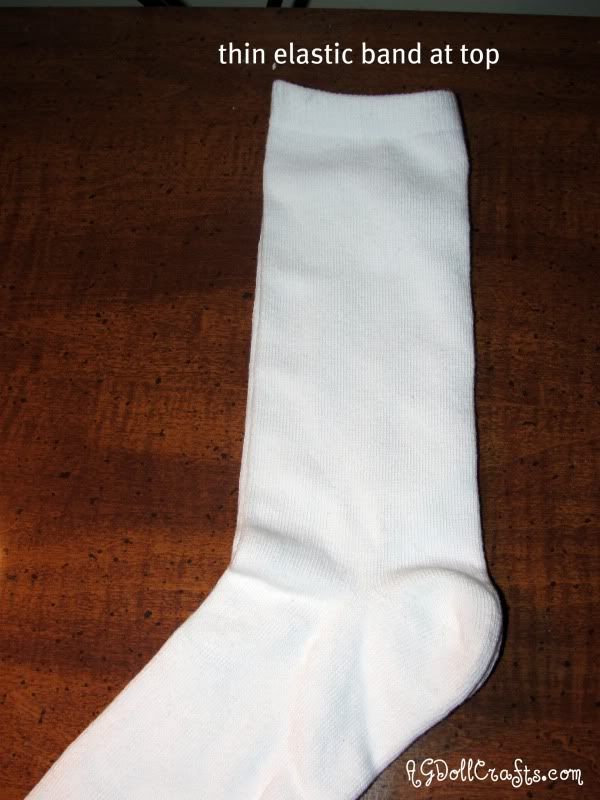 You want to start with a pair of Trouser Socks in womens adult size 4-10.  These are thin socks meant to be worn with dress shoes.  I found some white socks on clearance for 75 cents at Walmart that work really well.   You want the socks with the thin elastic ribbing at the top.
Each individual adult sock will make 1 pair of doll socks.  You may be able to scrounge in your unmatched socks and find one that will work so you don't have to buy any.  If you are going to use colored socks, be sure to wash them first in hot water and then dry them in a dryer to help set the color.  This is to help ensure that none of the dye from the socks transfers to your doll's feet.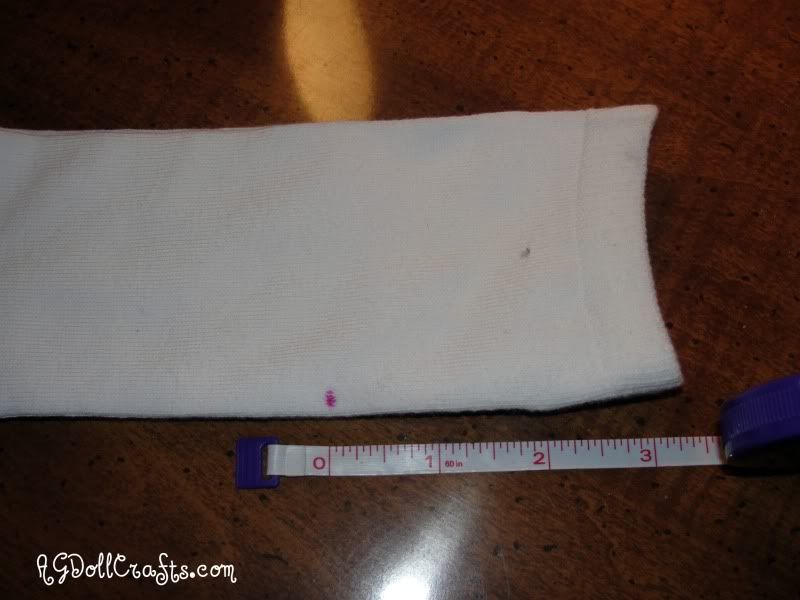 You need to start by deciding what length you want your finished doll sock to be. For an ankle sock, you want to cut a 3-4 inch tube.  For slouch or knee socks, cut a 5-6 inch tube.  You are going to use the existing band at the top as part of your doll sock. Measure from the ribbing down to the desired length. I used a disappearing ink fabric pen to mark the length.
Cut the desired length to form a tube from the top of the sock. The remainder of the adult sock can be discarded or saved for another project.
Fold this tube in half lengthwise with the ribbing around the top and the cut end at the bottom.  Cut through both layers down the middle.
Now you have the pieces for your 2 doll socks.
With the right sides together, pin down the long edge.  Using a 1/2 inch seam allowance, sew the side. (Top is where the ribbing is.)  Be sure to use the plastic foot for your sewing machine, if you have one.
Before you sew the bottom seam, turn it so the seam is running down the middle, instead of being at the side.  This will ensure the seam is running up the back of the dolls leg when the socks are worn.  Sew the bottom seam.
Trim excess material close to the seam and turn right side out.
These socks are snug so they stay up well, but aren't so snug that they are hard to get on your doll.
Feel free to embellish as desired.  I made a pair with cute little ribbon bows just above the ankles.   These would also be cute with tiny heart shaped button at the sides.  You can also use holiday socks found at the dollar store to make these socks.  Just be sure that the pattern is fairly small so it doesn't look weird on your doll.
Here is a pair of knee socks I made. For these, I cut the initial tube at 5 inches in length.
If you enjoyed this post on making AG doll socks, you might also enjoy my tutorial for making doll tights from a knee sock.
If you have any questions about this quick and easy doll socks tutorial, feel free to leave a comment below. Happy Crafting!
If you enjoyed this tutorial for making Doll Socks, you might also enjoy these sewing patterns….
Simplicity American Girl Sewing Pattern
Learn to Sew for Your Doll: A Beginner's Guide
Doll Days! 18 inch Doll Sewing Patterns
&