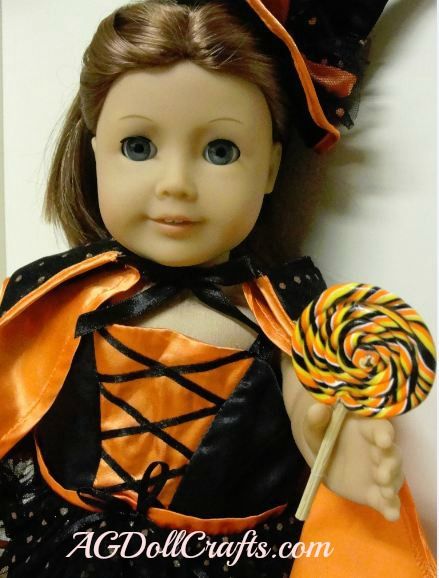 At the request of my daughters, I have been busy making Halloween themed AG Doll food. They want to have a Halloween party for their dolls 🙂 I started with some American Girl sized lollipops in Halloween colors. They certainly aren't perfect, but we had a lot of fun making them!
Materials needed to make the AG Doll Halloween Lollipops
Polymer Clay in white, black, orange, and yellow
Clear Nail Polish
As always, kids be sure to get your parent's permission before making this craft. It involves use of the oven and a knife.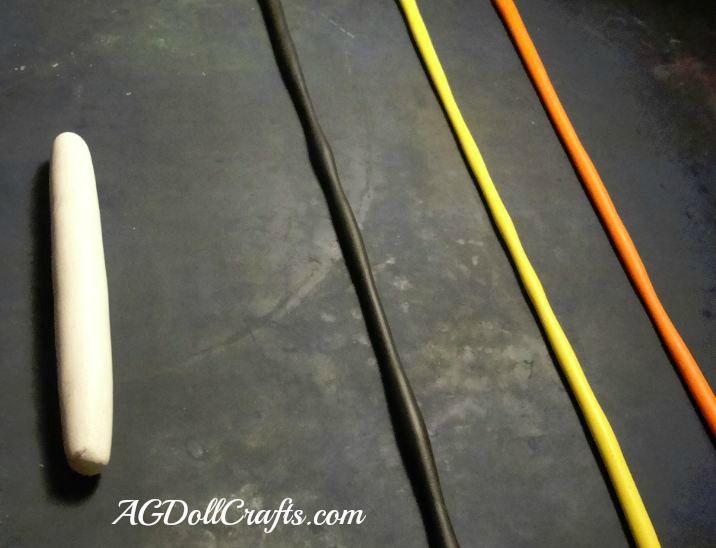 Start with a nickel-sized ball of white and roll it into a log about 1/2 inch thick. Using about half the amount that you did for the white, roll 1/8 inch ropes of yellow, orange, and black. You don't have to measure it, you can just eyeball it.  I use a silicone baking mat to roll my clay.  It works great!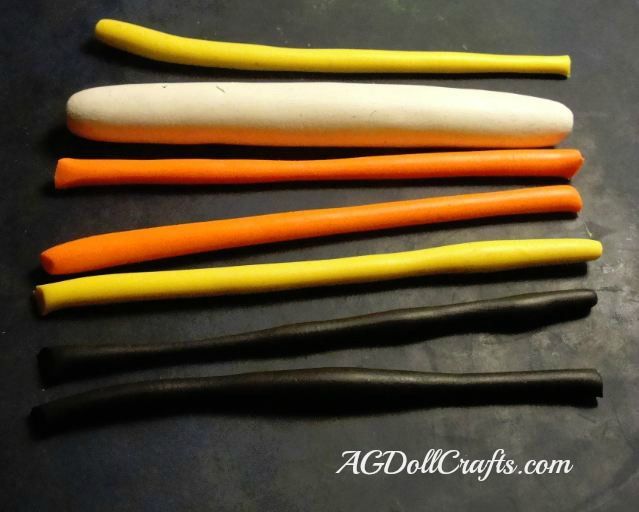 Cut the colored ropes so they are the same length as the white clay.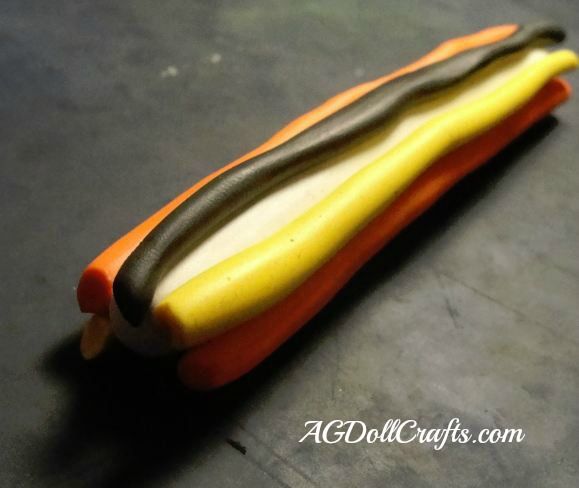 Alternating the colors and spacing them as evenly as you can, stick the colored ropes to the log of white clay. Press in lightly so it all sticks.
Start rolling the log back and forth. You may need to cut the rope in half at some point. I couldn't get it to be all twisty and evenly patterned, but that is ok. As I learned later, you can do that as you are rolling the rope into the lollipop.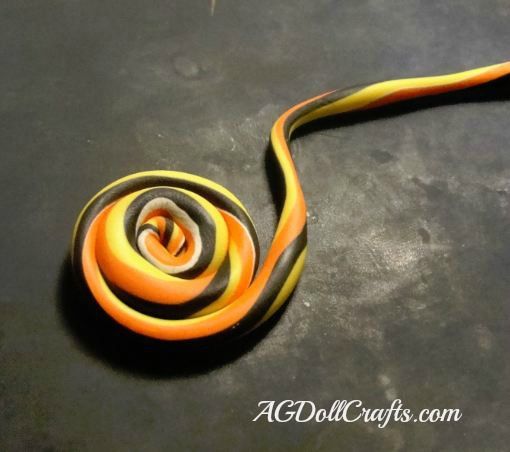 Start at on end of the rope and coil it to form the lollipop shape. My first attempt did not turn out exactly as I wanted it pattern-wise, but it was still cute.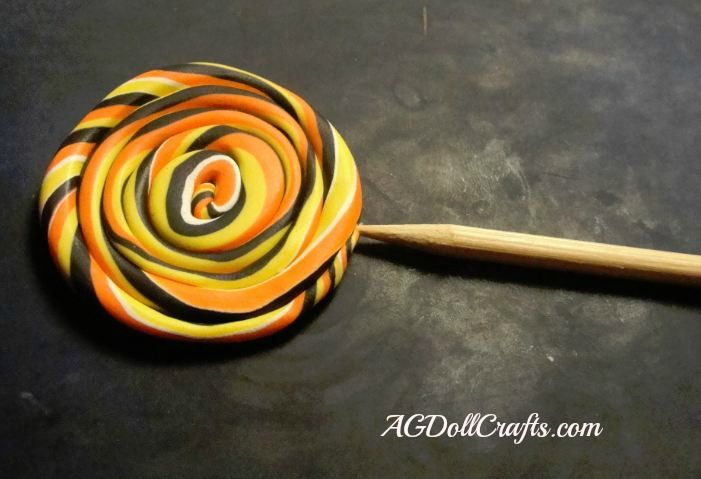 You want your finished lollipop to be between 1.5 and 2 inches in size. When it gets to that size, use a knife to slice off any extra rope and press the end into the lollipop to secure. Cut a wooden BBQ skewer off at about 3 inches and insert the pointy end into the lollipop. Go slowly so you don't poke through the backside. Put your lollipop on a baking sheet that you only use for polymer clay. I get my baking pans that I use for polymer clay from the dollar store.  Remember, any utensils or baking sheets that you use for polymer clay can not ever again be used with food.
For my second attempt, I discovered that if you twist the rope slightly as you are coiling it, you will get that familiar lollipop look.
Bake your polymer clay lollipops according to package directions. Generally it is 275 degrees and 15 minutes for every 1/4 inch of thickness of your clay.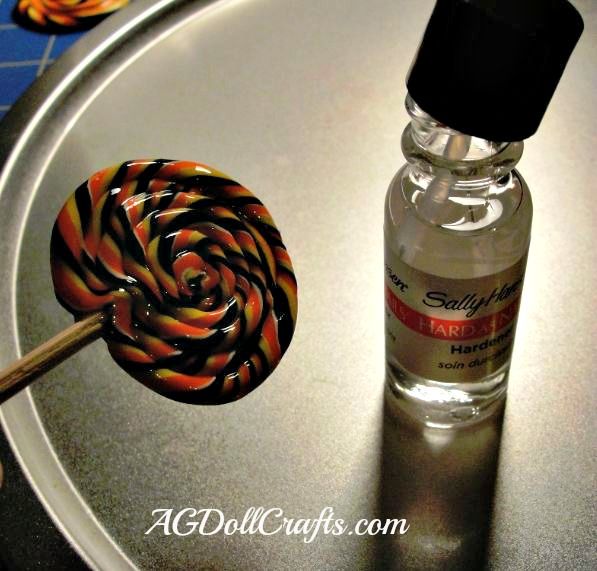 After your doll lollipops have baked and been allowed to cool, it is time to make them shiny. Clear nail polish works great for small projects like AG Doll food! Allow to dry completely. I used a blow dryer to make the process faster.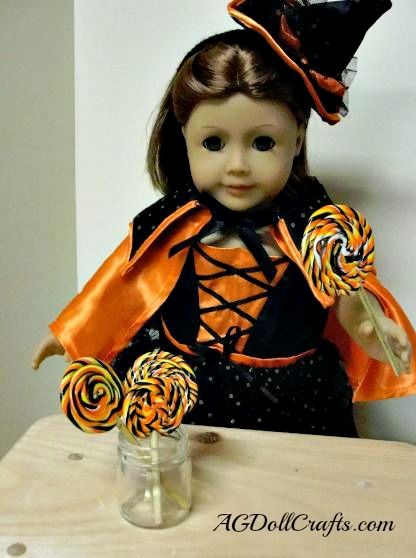 So there you have it – some fun Halloween treats for your AG dolls! If you enjoyed this tutorial, you might also enjoy my Monster Cake pops for American Girl Dolls post.
So tell me… What AG doll foods have you been making from polymer clay lately?  Have you made anything special for Halloween?  Be sure to leave a comment below.  We would love to hear from you!